I have a few larger subjects to write about, but the time to do so is fleeting!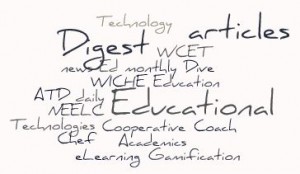 So thought I'd do this quickie in the interest of spreading the news…
Education Dive is a great, free resource and daily digest summarizing a variety of articles daily. "The Education Industry in 60 seconds" they say… I like their daily email – it gives me a quick overview of a variety of news articles and related items, with links to those items for a closer read. Great resource for those in the education field.
Ed Digest is similar, but it's not free, and does focus more more academic articles and research, as opposed to general news and articles per Education Dive. However, their summary page of monthly articles provides links to the external sites and resources they discuss, which makes for a good 'pull' resource.
Otherwise, personal blogs are often a great resource and fun read for the occasional downtime: Continue reading eLearning Resources →