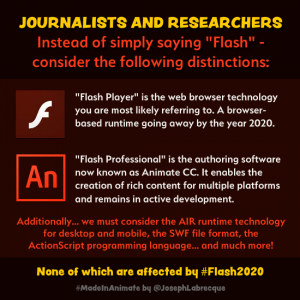 There is a lot to "Flash".
The Flash Player will finally be EOL'd at the end of 2020. So all of us who still have Flash *player* published content out there have about 2 years to get it migrated to a non-Flash solution.
I think the above image is being a bit nitpicky but its a valid point, and a somewhat sore point for thousands of developers who spent years refining their Flash skills – and who struggle to find as an effective rich media development platform.
Indeed, apparently "Adobe AIR for desktop and mobile will continue with a re-energized roadmap."
Most audio and video can be converted in a straight-forward manner and natively supported by current browsers. 'Protected' video via RTMP still has a bit to go, as I understand.
The HTML5 canvas element and CSS/SVG animations are the substitute approaches for Flash animations. Adobe Animate (CC), the newest version of Flash Professional, will continue to be developed and support. So hopefully they will (significantly) improve the methods to export rich media to a native HTML5 format – and significantly improve their 'create.js' approach which reminds me of Dreamweaver's code in 1997…
As it stands now, there are a variety of tools to help mimic Flash output to HTML but none as featureful and capable (that I've seen. I'd love to be corrected!)
Here's a decent writeup by Adobe on the whole HTML conversion process.
One last thing – I do hope the Flash Player continues to be available for installation if someone wants it. There is a LOT of SWF-published content out there and to completely cut it off from folks who may want to view it would be…unfortunate.