Online education continues to see the use of video on a rapid rise, especially with the popularity (deserved or not) of MOOCs. Thankfully the speed of most home and mobile connections has finally allowed high-quality video to be a substantial medium in eLearning. I'm sure many remember the small 15fps videos that we had to make do with a decade ago…and how many remember the even smaller, more-compressed video we had to optimize when authoring CD-based training?! Ah, Cinepak…
Kaltura is a provider of online video solutions and moving up in the world right along with video itself. We've worked with Kaltura fairly extensively over the past year and find its capabilities and features to be mostly excellent. There are, of course, a few areas to be improved…but the core video-streaming capabilities, to a variety of client devices, is simply solid.
I try to be fair and/or somewhat agnostic in this blog, so don't think of this promotion something specific only to Kaltura. There are other solid video providers out there (i.e. Panopto, MediaCore [now owned by Workday], Vimeo, etc.), each with variations in toolsets, features, and focus… I just don't have a lot of direct experience with most of them (well, maybe Vimeo a bit) and have been working deeply with Kaltura…plus, 'open source' is nice.
SO, to the point, Kaltura is presenting their Education Virtual Summit on May 19th (2016). From their page,
"Through MOOCs, lecture capture, flipped classrooms, media libraries, alumni relations, and more, educational institutions are using video to transform the way we teach and learn. Join leading educators to explore how to use video from the classroom to the dorm room to the library to the admissions department. At the Kaltura Connect Education Virtual Summit, you will find the best practices to inspire your educational institution through video."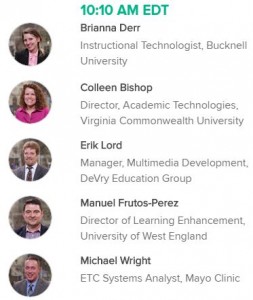 Certainly the best part of the summit will be the very first panel session, "Empowering Faculty and Students to Create and Engage" – though perhaps I'm a little biased :).
10:10am EST, May 19th – be there!
And of course, the subsequent presentations are also of high-value with some pretty darn impressive and qualified institutional experts. Check out the registration and agenda page – it's sure to be an informational blast of knowledge!
Other topics on the agenda:
Changing the Learning Paradigm Without Breaking the Bank
The Secret Weapon for Video
Improving Learning Outcomes
Tear Down the Walled Garden
How University of Georgia Crowd-Funded Video
Melding DIY and Professional Video
State of the Union in Edu
Also note this virtual conference is targeted for the Education sector, but Kaltura also has another targeting the Enterprise sector on June 16th.